Three companies. One mission: Superior customer service.
Global Specialized Services (GSS) is a Wyoming-based company focused on serving the energy industry with its heavy haul, trucking and crane needs. Founded in 2012, GSS is a subsidiary of Transportation Partners and Logistics (TP&L). Being customer-focused companies, GSS and TP&L know the importance of supporting their customers and providing excellent customer service, and that is why they chose Wyoming Machinery Company for their equipment needs.
GSS and TP&L began their partnership with Wyoming Machinery Company in 2011, and over the years they have purchased a number of different pieces of equipment, including portable generator sets, trailers, skid steers, telehandlers and, most recently, cranes. GSS and TP&L feel that an important part of their success is working with a company that not only understands their business, but a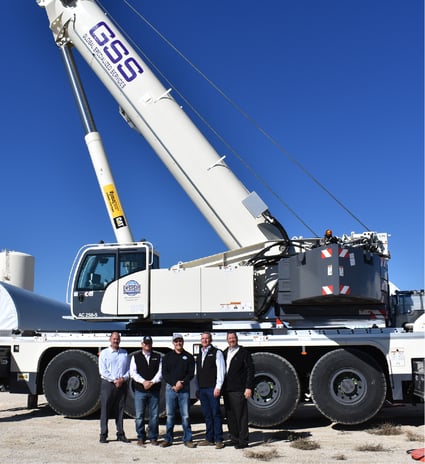 lso is there to support their needs.
"From the sales side to the service side, the values of Wyoming Machinery Company match the values of GSS and TP&L "
Jim Orr, owner of GSS and TP&L, said.
"For us, a successful business is built on successful partnerships, and Wyoming Machinery Company has more than stood up to that test."
Wyoming Machinery Company's core values of "Safety, Integrity, Excellence, Commitment, and Teamwork" also match the values of GSS and TP&L.
Having these in common was an important part of the decision-making process to ultimately choose Wyoming Machinery Company. GSS works with the biggest names in the gas, oil, coal, and wind industries. They need -- and rely upon -- quality products to get the job done in order to have complete customer satisfaction. Orr and his team appreciate that Wyoming Machinery Company is able to provide the same:
Neighbors helping neighbors.
"Service work with Wyoming Machinery Company has been excellent," Orr said. "They stand behind their warranty and will fight on our behalf. They always make sure we are taken care of."
Vice President Billy Brenton agreed.
"It is nice to pick up the phone and they answer," he said. "If you have a problem, they get right back to you with a solution. I would recommend Wyoming Machinery Company to anyone in the business."
"What makes Wyoming Machinery Company special in our eyes," he explained, "is the integrity level that they brand themselves with. It mirrors our companies' and how we operate. Wyoming Machinery Company has always stepped up to the plate, and that's what we look for."
In addition to having integrity and stepping up to the plate, GSS and TP&L also chose Wyoming Machinery Company because its staff went above and beyond average customer service.
"We have a great relationship with Wyoming Machinery Company," Brenton said. "They learned about our business and what our needs were, and that's how they got our business."
The partnership that GSS and TP&L found with Wyoming Machinery Company makes sense. Not only are GSS and TP&L's equipment needs met by the great products Wyoming Machinery Company provides, but also the alignment of the mission to provide customers with the best service -- both during and after the sale -- make them stand out in the industry.
Wyoming Machinery Company -- We are your friend, your neighbor, and your partner.