Jacques Cortez is the owner of Grade A Excavation, a growing residential and commercial excavation company in Cheyenne Wyoming. Jacques started Grade A Excavation 2 years ago and over the last 2 year has seen his company grow and thrive in the Cheyenne area. One of the secrets to Jacques success is the partnership he has with Wyoming Machinery Company and his CAT machines to get the job done.
Jacques is a new member to the Wyoming Machinery Company and CAT family. Having used other equipment in the past, he decided to come visit with Wyoming Machinery Company when he was unable to find the right piece of equipment.
"I needed a lighter piece of equipment for a job and decided to go talk to Wyoming Machinery Company' stated Jacques." "I was a little hesitant about buying CAT and assumed that I was too small of a customer for them, but my sales rep and the entire Wyoming Machinery Company team said they would change the way I feel about that, and they really have." Jacques first experience with Wyoming Machinery Company was with demoing a CAT 236D skid steer that he could lower into a basement for compaction. CAT offered him a machine that allowed him to perform this job efficiently and safely.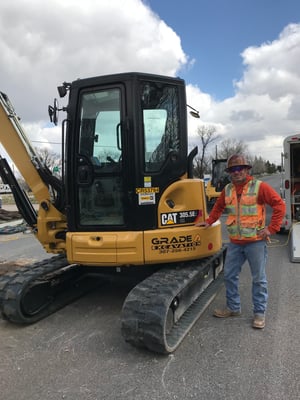 "We demoed a skid steer and never brought it back,' stated Jacques." "We have also demoed a 305.5E2 mini excavator, and a 320 next gen excavator, and have also bought both of those."
Having a growing business Jacques know that time is money and having reliable equipment is going to be what keeps is jobs on schedule and allow his company to grow. "We can't afford to have down time and that was one of the reasons we choose to purchase CAT and new equipment,'' stated Jacques.
"One of the big things is parts availability, they make the hydraulic hoses right there on site and they have an inventory of parts that other equipment dealers just don't have.' Stated Jacques." Having Wyoming Machinery Company on our team has really made us force to be reckoned with."
Not only is Jacques impressed with the premier product of CAT equipment, the relationship that Jacques has with Wyoming Machinery Company and the CAT brand has helped his company grow by providing him with equipment that he can rely on and a company that is there to support him.
"Any time we have a question about a machine or a part Wyoming Machinery Company is always available to help us,' stated Jacques" "The time and effort that Wyoming Machinery Company has put into me and my company has shown me that they believe in me and are here to back us, it's really a partnership."