How Wyoming Machinery Company and Cat Equipment has helped Rozier Construction succeed.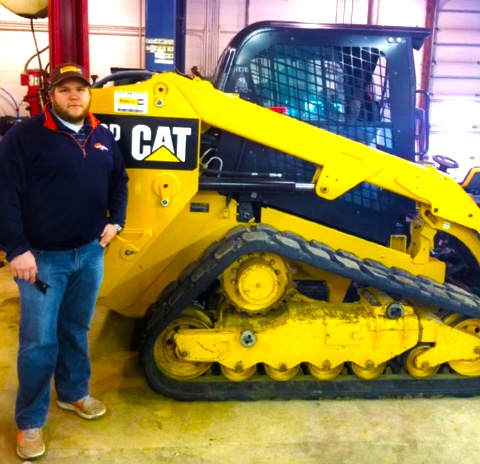 Brian Rozier is one of the owners of Rozier Construction and he relies on Caterpillar equipment to help him and his construction company succeed every day. Caterpillar equipment is instrumental in getting his projects started while also helping him stay on track. From dirt work around the build site to sewer and septic work, he relies on CAT to get the job done.
For Brian, there is no better brand than Cat. This relationship started when he and his father decided to purchase their first piece of heavy equipment for their company. "Originally, when my dad said he wanted to get a skid steer for the company, I wasn't really sure we needed one, but he was determined and I eventually gave in. He had been working with a different company and when we drove to their facility to pick up the equipment, they didn't have the time for us. After waiting for 20 minutes for help I suggested we go to Wyoming Machinery Company and it was the best decision we ever made."
"Wyoming Machinery Company helped us as soon as we walked in the door. They gave us a great understanding of the different options of the equipment and let us take one for the weekend to demo before making the final sale. We have been using them ever since."
- Brian Rozier, Rozier Construction.
Cat equipment has helped Rozier Construction grow their business, and since their initial purchase, they have acquired a backhoe and a new skid steer. Brian stated, "Cat equipment is reliable, and when it comes to a Cat Backhoe you just can't beat them. Nothing runs like a Cat."
While Cat equipment is very reliable, Brian knows the importance of proper maintenance and the use of Genuine Cat parts. "I have the benefit of having a Cat mechanic in the family and he has taught me the importance of regular maintenance on the machines. When we notice a part starting to wear, we are diligent about getting it into the shop for maintenance. When we need parts I stop into the Gillette store and the parts guys are always very helpful, the parts are usually available, but even if they aren't they can order them in from Denver and I'll get them the next day."
Cat equipment has become an important part of Brian's company and he knows that he can rely on them. When people ask him why he chooses Cat the answer is simple for him:
"Nothing runs like a Cat. You can always rely on them. Cat knows what they are good at and nothing compares to them. Cat and Wyoming Machinery Company are committed to their customers' success big or small."